news
SISTER ESTHER BAITAILLE
GOES HOME TO GOD
On March 11, 2017 Sister Esther Bataille, OSB, a Benedictine Sister of Emmanuel Monastery, died at Maria Health Care Center. She was 105 years young and had been a resident at MHCC for five years. Esther had been in monastic life for 87 years.
Esther, or "Aunt Re" as she was affectionately known by numerous nieces, nephews and "grands" and "great grands," was born on September 15, 1911 to Gertrude and Emile Bataille of Hilton, now Maplewood, NJ. She was one of nine children, six brothers and two sisters, and was eighth in line. Her father was a founding member of St. Joseph Parish, Maplewood, which was served by the Benedictine priests of Newark, NJ and Benedictine Sisters of Elizabeth, NJ. Her mother was organist at the parish for 28 years.
She attended local elementary schools, Columbia High School, spent her sophomore year at "Les Madames de Sacre Coeur" in Montreal, Canada, where her love for the French language was confirmed, and went on to work at an insurance firm after graduation.  She grappled with a "nagging idea" of a religious vocation and entered the Benedictine Sisters at St. Walburga in Elizabeth, NJ on December 8, 1930.  She went on to graduate from Seton Hall University with a major in French, a subject she taught for many years. Her teaching career spanned more than 40 years in elementary, middle and high schools in New Jersey, Washington, DC, and Maryland.  She also ministered as Novice Director at St. Walburga from 1952-58, and worked as a volunteer at Harbor Hospital Center for over 25 years after she "retired."  Esther was 97 when she finally did retire from active ministry beyond the monastery!
Esther was a founding member of Emmanuel Monastery in Lutherville, MD, a foundation begun in 1971. She was sixty years old when she and 22 other Benedictine women from the Elizabeth monastery came to the Archdiocese of Baltimore to form a new monastery.  She was part of the original coordinating team of the new foundation, and for years served as secretary for the young community. She was a "Vatican II" woman, a woman ahead of her times, willing to risk, strong in her faith and convictions, and always willing to serve in any way she could.  Her daily steadfastness in living in community, joyfully and as a contributing member even at the age of 100, was remarkable and worth emulation. Her sisters unanimously named her as our "Good Zeal Model," reflecting how well she lived the essence of the Rule of Benedict.
Esther is survived by her community and nieces and nephews too numerous to name. The celebration of her 100th birthday brought together relatives from all over the country, some of whom met each other for the first time. They gathered to celebrate this woman small in stature and big of heart whose presence will live on in the many, many people whose lives she touched with her joyful smile, her gentle yet firm way, and her hope-filled vision for all of life.
Visitation was held at Emmanuel Monastery, 2229 W. Joppa Road, Lutherville will be on Tuesday, March 14 from 3-5 PM; Vigil Service and Sharing of Memories 5-6 PM. A Mass of Resurrection was held on Wednesday, March 15 at 11:00 AM at the chapel at Villa Assumpta.
Please pray with the community as we lay our sister Esther to rest. We pray in gratitude for all who were part of her life, for the many who cared for her at Maria Health Care Center, for the School Sisters of Notre Dame, and for her family, our Oblates and friends who were faithful visitors throughout her time at MHCC.
post Inauguration actions
On January 21, 2017 members of the community participated in several events following the inauguration of Donald Trump as President of the United States. Conscious of the turmoil of 18 months of campaign rhetoric, the election, and the two months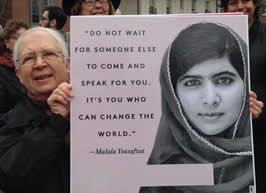 that followed, the community recognized the need for a rekindling of compassion, respect, inclusion, healing and hope among us as a nation. Sr. Patricia Kirk, prioress, attended the Women's March in DC, several sisters, Oblates and friends participated in the local Women's March here in Baltimore, and the community as a whole invited others in the area to a Morning Prayer Service " This Is the America We Believe In," held at the monastery. Over 60 people gathered with us to pray in solidarity with the thousands of women around the country and the world, standing for the many values on which this coutnry was founded. Below is the reading that was part of that prayer and reflection. As we begin this time of transition as a nation, we invite you to ponder its meaning in your life as well.
There is a time, there is a season,for everything under the heavens.Look to your heart and listen well. Your time is here.  Your time is now.
When we look at the world around us—our immediate world and the world beyond— we see a lot of difficulty and dysfunction. The news we hear is mostly bad news, and that makes us afraid. It can be quite discouraging. Yet, we could actually derive inspiration from these dire circumstances. We could recognize the fact, and proclaim the fact, that we are needed. Our time is now!
Who are "we"? You and me and every one of us—each of us on this earth is needed at this time. We're needed because there are hundreds of thousands of billions of beings who are suffering. If even one small segment of us, one sub-community, took it upon themselves to live their life in a way that helped their families, their neighborhoods, their towns, and indeed the earth itself, something good would begin to happen.
This is a time when we must know what we stand for.
This is a time to let go and allow faith, hope, healing, and compassion to steady and sustain us.
This is a time when we must vow to listen deeply to the cries of the world and shed our own tears.
This is a time not just to hear echoes of our own ideas but to learn from others who are not like us.
This is a time when the bubbles are bursting and determination is raised.
This is a time to be fierce in the values of unity, inclusion, respect for diversity, and kindness.
This is the time to love, to be connected to the rest of the world in its joys and struggles, its violence and hate, its terror and its beauty…because each time we act in love, it becomes more difficult to hate.
Who are we…and who are we as a nation today? We are poised at a critical moment in our history…this is our time, a moment of awakening if we choose to take it.  "Love trumps hate." Love, combined with wisdom and compassion, overcomes divisiveness, aggression, greed, fearfulness and domination. It will give us the justice and peace we long for and the future requires. Before, "Love trumps hate"  was just a campaign slogan. Now we must make it a reality.
There is a time, there is a season, for everything under the heavens. Look to your heart and listen well. Your time is here.  Your time is now.
Excerpts from writings in  "After the Election: Buddhist Wisdom for Hope and Healing" published in"Lion's Roar" Magazine.  Scripture based on Eccl. 3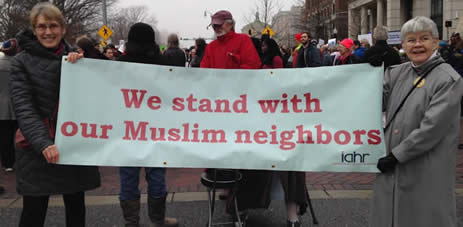 Top photo: Virginia Rugemer, Oblate; photo just above: Suzanne H. O'Hatnick, President of IAHR Interfaith Action for Human Rights and Sr. Kathy White OSB.


important statements from the conference of benedictine prioresses

Conference of Benedictine Prioresses Statement on Racism 2/4/17

Statement in Support of Comprehensive Reform of Immigration Policies 2/2013

Prevention of Gun Violence A Statement of the Conference of Benedictine Prioresses 3/21/13

Statements can be found on the Federation of St. Scholastica web site

www.federationofstscholastica.org
AWE: an awesome enterprise

makes the news
Read the article by Colleen Dunne, which got front page coverage at this link http://ncronline.org/news/sisters-stories/transformations-follow-after-nuns-take-mother-and-child
For more information about AWE visit their web site at www.asyleewomen.org