meet the sisters of emmanuel monastery
"Let us prefer nothing to the love of Christ, and may Christ bring us all together to everlasting life."  (RB 72:11)
Meet the sisters, and read about the many ways they reach out and minister to God's people.


Rosalie Desmond, OSB – taught elementary school for 25 years in the Catholic Schools of the Archdioceses of Newark, NJ and Baltimore, MD. "Desi" has served the community as assistant treasurer for many years. She also shared her skills as beautician in cutting the sisters' hair for many years.

Jacinta Fernandes, OSB – is director of St. Joseph Social Service Center in Elizabeth, NJ where she ministers as advocate for the homeless and those in need. The Center works closely with its partner organization, the Elizabeth Coalition to House the Homeless, serving the most vulnerable members of society. Jacinta is also a leader in working for justice and dignity for immigrants and undocumented persons. She also serves as the recording secretary for the community.

Germaine Hartle, OSB - taught in elementary schools for fifty years in the Dioceses of Erie and Allentown, Pennsylvania.  As a member of Transfiguration Priory in Emmaus, PA, she served in several capacities and participated in the community outreach programs.  Having moved to Emmanuel Monastery, she now assists in the finance office, hospitality ministry at Transfiguration House and in outdoor maintenance. She enjoys gardening and spending time outdoors, and much of the beauty of the monastery grounds can be attributed to her "green thumb" and love of nature.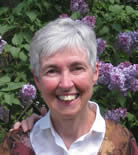 Patricia Kirk, OSB – Served as Prioress of the community from 1993-2005. Prior to this she was both a teacher and a pastoral associate for over fifteen years in Baltimore City. She served as Vocation Director and Director of Oblates in the community,and was elected again as Prioress in 2015. She is a Spiritual Director, a retreat director and is very active in Justice and Peace ministry.

Joanne Mastrogiacomo, OSB – Retired as a reading specialist from Baltimore Public Schools in 2000. At home, she continues to do needlework and is currently working on a project of making knitted hats for the homeless, the poor, and new-born babies at St. Joseph Medical Center. Joanne also assists in a variety of daily activities in the running of the monastery.
Jo-El McLaughlin, OSB - serves the community throug

h the ministry of music. She spent a year of her monastic formation with us in 2014, and returned from Ridgely, MD in April 2015 to begin a transfer process into this community. Jo-El volunteers at AWE (Asylee Women Enterprise) and offers her musical gifts for liturgy at the Carmelite Monastery, Sisters of Notre Dame de Namur at Villa Julie, and RCWP Living Waters Community. She provides music therapy for children with special needs at ST. Mathhew's Parents Day Out, and offers piano and voice lessons and voice therapy at the monastery.

Kathleen McNany, OSB – serves the community as Liturgist and Director of Communications. She is also a member of the Leadership Team. Kathy is a Spiritual Director, Retreat Director, leader of programs in prayer and spirituality at the monastery and in the broader community, and works with other Benedictine communities in discernment facilitation. She presently serves as a member of the Council of the Federation of St. Scholastica.

Eleanor Noll, OSB – served as the coordinator of the Meals Program at Beans and Bread Soup Kitchen for over 20 years. Ellie's other "outside" ministry is gardening at the monastery. In community she serves as the building and household manager and serves on the Justice and Peace committee.

Patricia Phillips, OSB – serves as community treasurer assisting the community in responsibly stewarding our resources, a position she has held for over 25 years. She served on the Leadership Team of the community from 1993-2005. Pat taught in Archdiocesan schools for over twenty years, and worked for Baltimore County school tutoring children with skeletal displaysia. She presently works at St. Joseph Medical Center part time in the Out-Patient division as Greeter/Concierge.

Martina Revak, OSB - served on the staff of St. Francis of Assisi Parish in Allentown, PA for over twenty years. At the Emmaus Priory, she was Community Coordinator, Development Director, responsible for investment services, Oblate Director, Prayer Group Moderator, and participant in the Benedictine Study Group. Martina is presently under care at Maria Health Care Center, run by the School Sisters of Notre Dame, only ten minutes from the Monastery.

Eileen Simms, OSB – worked in Catholic education for over forty years. She worked for several years in Baltimore County Schools as an academic support person in remedial work with challenged students. In the community Eileen served as our former Oblate Director for twenty-six years, and is presently corresponding secretary for the community. She leads the weekly Lectio prayer group, and serves on the Justice and Peace Committee, and the Oblate and PACEM committee.

Joan Marie Stief, OSB – worked for Catholic Charities as the Director of Parish Social Ministry. She serves on the Leadership Team of Emmanuel Monastery, and is the community librarian. Joan Marie is involved in outreach to the broader community through the Justice & Peace Committee, Days of Prayer, and the Oblate and PACEM programs. In the field of Archdiocesan education, she taught, served as a school librarian and as director of library media services. She currently serves as Co-Executive Director of the P. Francis Murphy Justice and Peace Commission.

Kathleen White, OSB –was Prioress of the Benedictine Sisters of Emmanuel Monastery from 2005 to 2015. She also serves as a member of the community Justice and Peace Committee, the Oblate Committee and is a PACEM mentor. Kathy taught in the Archdiocesan schools for a number of years and worked in parish ministry for over 20 years primarily in Pastoral Outreach to the Elderly and Homebouond. She currently serves in coordinating maintenance at the monastery.
Virginia (Jeri) Willson, OSB – is the community

archivist, and is one of the community gardeners. Her earlier ministries include teaching, educational administration, and office management. Jeri recently retired from St. Joseph Medical Center where she worked in the Out-Patient facility as Greeter/Concierge, extending our Benedictine hospitality to patients arriving for surgery and other medical procedures. She now continues that ministry of hospitality at the monastery as co-ordinator of Transfiguration House.