support our sisters & our mission
We continue to be blessed by the many good friends and supporters that have become part of our lives.  It is through your presence and your generous support that we have been shaped as a community and have been able to reach out to so many through the years.  Your support will enable us to continue to recommit ourselves to the Benedictine life of community, prayer and service that we have established here in Baltimore.
We ask you to consider supporting one of the following needs:
Spiritual Ministry
The sisters offer days of prayer, retreat experiences, spiritual direction, and a variety of spiritual enrichment programs and opportunities for those seeking to grow in their own spiritual journey.  Several of the sisters are inv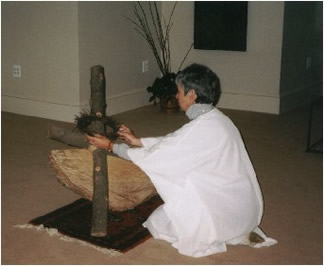 olved in this ministry, full time or part time.  We count on your prayer, participation and support of these programs and this ministry to extend the gift of Benedictine spirituality beyond the monastery. (Click here for our Calendar of Events and current program offerings)
Continuing Care
We remain aware of the reserves necessary for the continuing care of our sisters. Though our community is blessed with good health, we are realistic and understand that long-term costs associated with care of our elders will continue to increase. Our sisters remain active in many ways as they move further into elderhood. In addition, their ministry of prayer supports our other endeavors.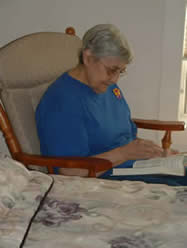 Stewardship of Monastery
We have begun a Restricted Fund for sustaining the care and upkeep of our monastery. Our beautiful space and unique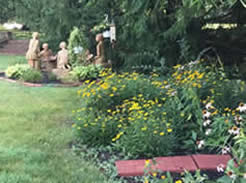 ministry continue to draw guests and retreatants. The Rule of Benedict, under which we have dedicated our lives to the Gospel, directs that we maintain our property as gifts on loan from God.
"...all goods of the monastery are to be regarded as sacred vessels of the altar." (RB 31:10)
Emmanuel Emissary
Emmanuel Emissaries are members of our monthly giving program. This is a wonderful opportunity to share in the mission of the Benedictine Sisters. It's simple, secure and one of the best ways to support the Benedictine Sisters of Baltimore. You determine the amount of your monthly donation and whether you would like to use a credit card, debit card or automatic withdrawal from a checking or savings account. You can discontinue participation in the program at any time. Just click on our Donate Now! button to get started.

Ways to Give
On-line donation
If you are ready to make a donation you can click the "donate now" link and make a secure donation. You may identify a need you would like your donation to go to or you may make a donation for general support.

Mail-in Donation
Not quite ready to make an on-line donation? Then just download and print the Donation Form and mail it to:
Benedictine Sisters of Baltimore
Attn: Development Office
2229 West Joppa Road
Lutherville, MD 21093
(Click here to download Mail-in Form in PDF format)
Pledges
A pledged donation can be made over a period of time. Contributions can be broken down monthly, quarterly, or annually. Download a Pledge Form and mail it to the Development Office.
(Click here to download Pledge Form in PDF format)
Planned Giving
A planned gift of bequests, Life Income Trusts, and Insurance Policies are legacy donations that benefit both you and us. For more information regarding a Planned Gift or for including the Sisters in your Will please contact:
Molly Corbett, Director of Development
development@emmanuelosb.org
410-821-5792
IRA Charitable Rollover
The IRA Charitable Rollover provision allows individuals 70 1/2 and older to make tax-free gifts totaling up to $100,000 from a traditional IRA account directly to the Benedictine Sisters of Baltimore. If you and your spouse have IRA accounts, you may each make gifts up to $100,000. While you cannot claim a charitable deduction for IRA gifts, this distribution counts as a tax-free transfer fulfilling your annual minimum required distribution.
You may not receive goods or services in return for your gift, but you will get a written acknowledgement from Benedictine Sisters of Baltimore for tax purposes.
In order to initiate an IRA Charitable Rollover, please contact your IRA custodian. Transactions usually take a few weeks, so planning ahead can help. If you do plan to complete an IRA Charitable Rollover this year, please let us know so that we can look for it. If you need additional assistance, please contact Molly Corbett at (410) 821-5792 or development@emmanuelosb.org
Matching Gifts
If your employer offers a matching gift program for your donations, please send the appropriate paperwork to the development office.
Volunteer
Please contact Molly Corbett, Director of Development, if you would be interested in volunteering your talents to the Monastery. We are always in need of volunteers to help with mailings, gardening, small home repairs, and painting. Whatever your talents we would love to have you be part of our community.
Molly Corbett, Director of Development
development@emmanuelosb.org
410-821-5792